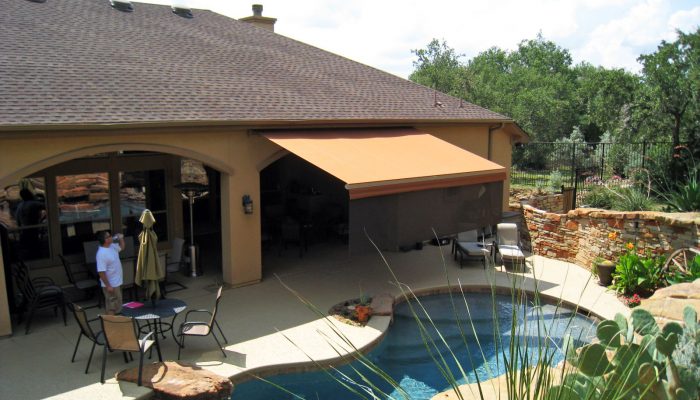 If you're furnishing the patio at your new home or looking to completely redo your outside areas, it can feel overwhelming. Gone are the days when there wasn't a lot of choice when it came to deciding what colors or patterns you wanted for your patio furniture let alone for an awning or patio shades. But flash forward to 2018 and today, and you can have your shades, awnings, and patio cushions all coordinated to match. Below you'll find 7 of our favorite outdoor fabric trends for 2018 to help inspire your next outside decoration project.
Indigo
Deep blues from indigo to Mediterranean to royal are everywhere this year. Dark blues whether as a solid or as a pattern paired with a white or light cream colored background are a great way to add a touch of sophistication to any patio or backyard. Better yet, mix and match with an indigo awning and nautical patio cushions to make your deck look and feel like a yacht or luxury sailboat.
Sea Green
In keeping with the boats and the water, why not invoke cool ocean breezes with sea greens and other beachy tones for you new patio shades or retractable awning. Swap out your furniture cushions or add throw pillows to coordinate with your new shade additions and you'll feel like you're at an all-inclusive resort all year long.
Terracotta Tones
One of the joys of having a sitting area outside is the ability to watch the sunsets every evening. For 2018, many outdoor fabric companies including Sunbrella are featuring sunshade fabrics in a range of terracotta tones that evoke the rising and setting sun. Whether in a pattern or a solid awning, you can find outdoor fabrics appearing shades from burnt orange to desert beige.
Mauves and Purples
If you want your patio to be in the pink for 2018, then try an awning, power shades or patio furniture in shades of purple or mauve. Earlier this year, Pantone declared deep purple the color of the year and some designers are saying that trend is spilling into the outdoor design world as well.
Stripes
Our personal outdoor fabric trend this year is the return in a big way of stripes of all kinds from wide color blocked striping, to petite "duck" stripes. Stripes are also a good way to try a patterned awning without committing to a loud or oversized print. You can even try a couple or few of the 2018 color trends when you decide on a striped fabric. For example, try an indigo, light aqua blue, and terracotta orange striped fabric awning instead of one in a solid color.
Metallics
When we first read about Sunbrella's latest metallic outdoor fabric line, we admit to being a little skeptical. If like, us you pictured an entire 1970's disco's worth of tacky bling and shine in the form of patio shades, awnings, and cushions, you can relax. The metallic fabrics have a slight sheen, but no extreme shine. Think gunmetal and industrial steel, not mirrorball and sequins. Metallic inspired outdoor fabrics provide a neutral palette that allows you to switch out your patio cushions every year without having to invest in new awning fabric to match.
Greys
Speaking of metal, Pantone's color for spring 2018 is "Harbor Mist Grey." It's a light blue-grey color that has a gentle partly cloudy spring day feel. In fact, all shades of grey are in this year from dark to medium to downright off-white greys in patterns and solids. We think greys look better as a stripe or a pattern if you're just starting to experiment with this neutral. Too much grey and you could wind up depressing your deck and your guests but paired with brighter colors or other neutrals and you've found the perfect update color for your patio.
Final Thoughts
No matter what colors you choose for your new awning or other patio and backyard accessories, just taking the leap and updating your outdoor space will transform your yard into a summer oasis you'll enjoy entertaining and unwinding in.
In fact, having a new awning or patio shades installed at your home won't just update your patio or deck, but will also add shade and extend your living space. Plus, by adding an awning or awnings to your glass doors and windows in one or more of the 2018 colors you can make your old home look brand new!
If you have any questions about the latest outdoor fabrics or about adding more shade to your home, contact us via the contact form or leave your questions in the comments below.
Categorised in: Outdoor Fabric