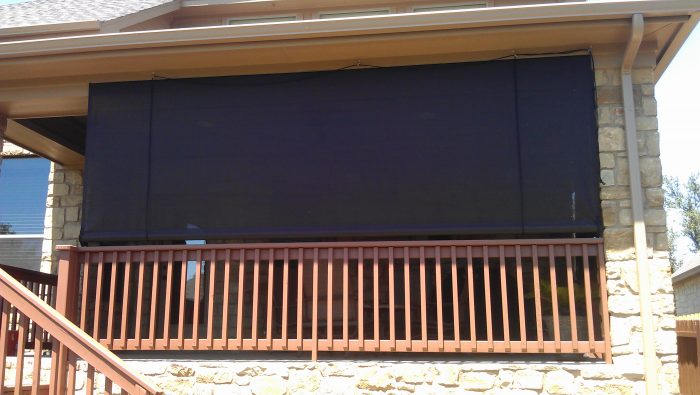 Drop Roll Curtains are one of the most cost-effective and energy-efficient products available when it comes to providing shade for your patio or to reduce heat and glare from outside. At Hill Country Awnings & Shades of Texas, our drop roll curtains are manually operated with ropes and porcelain rings and we carry Drop Roll Curtains in three different materials:
Sunbrella Fabric:
Sunbrella is known for designing and creating the best fabrics for outdoor use. Their fabrics are both durable and beautiful and make gorgeous drop roll curtains that look great as part of any patio.
Solar Screen:
Drop Roll Curtains made from solar screens block 90% of the UV rays and glare from the outside and make perfect patio shades and exterior shades for your windows.
While drop roll curtains can be installed indoors, we recommend you have us install them on the outside of your home or patio for maximum efficiency. Drop roll curtains work all day and night and are the ideal solution when you want to:
Block and deflect sunlight before it enters your home.
Eliminate glare and fading of your flooring and home furnishings.
Add beauty and value to your home or business.
Reduce costly cooling bills and reduce solar radiation by up to 95%.
Reduce temperatures 10-25 degrees.
Enjoy a potential 25 to 40% reduction in your air conditioning costs.
Drop roll curtains from Hill Country Awnings & Shades of Texas are perfect for enclosing covered patios or sitting areas and can keep you cool during the hot summer months. Drop roll curtains don't offer extra protection during hurricanes or high winds and can cause damage when left down during a storm, they can be anchored down at the bottom for greater wind resistance if there's a light breeze so you can stay outside.
With so many benefits to drop roll curtains and our other shade products, why stay in the heat for another summer? Contact us instead and schedule your free shade consultation today!