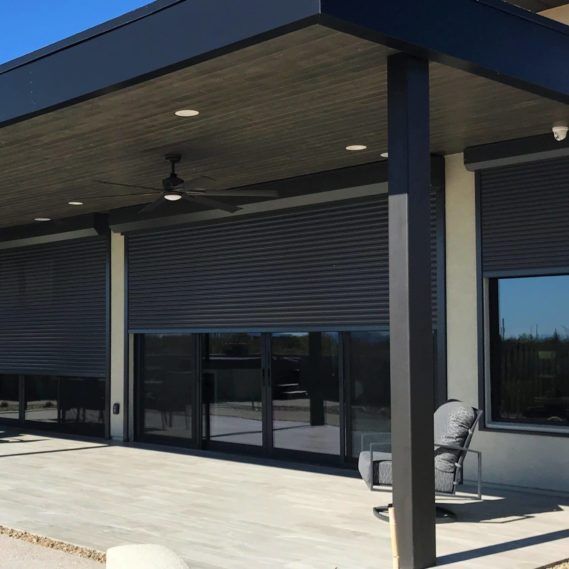 If you are looking for superior home security, severe weather protection, sound reduction for those noisy neighbors or up to 99% room darkening capabilities, then rolling shutters from our retractable awning specialists will provide the best solution for your home or business. Since so many people today are working from home, enhanced home security, noise and light control have become more important than ever. With our Rolling Shutters, working from home or sleeping during the day is easier and safer than ever.
Aluminum Rolling Shutters
Aluminum rolling shutters are mounted over windows, doors, patios or anywhere a secure barrier or insulation is needed. When completely closed, the shutters stop 99% of the radiant heat, offer total privacy, acoustic reduction up to 60%, room darkening up to 99%, and provide the ultimate in security. Our rolling shutters are compact and virtually disappear when not in use. Roll the shutters up out of sight when you want an unobstructed view and down for total protection or they are also available with light slats for additional light control and ventilation.
All aluminum housing, guide rails, and slats are powder coated for excellent durability.
T-Block auto-locking system for security and to prevent forced entry.
Interlocking aluminum slats are interlocked for strength and security.
Venting slats may be partially opened for ventilation and soft lighting.
Foam-filled slats are the key to insulation stopping 99% of the radiant heat.
Rolling shutters create a "dead-air" space in front of the window creating an insulated cell
With snap track rails, the mounting hardware is permanently covered for a clean, designer presentation.
Privacy
100% privacy and up to 99% room darkening capabilities. Our drop roll curtains and rolling shutters have been tested against winds in excess of 100 mph. The shutters have also been put through endurance tests against 80 mph winds, ensuring that our products are durable even during the worst weather.
Remote Operated
You can operate up to 15 different rolling shutters with one remote control that can mount to the wall if you choose. Operate each of your shutters individually or all at once. Shutters can be put all the way up, all the way down or anywhere in between to let a small amount of light and air through. Manual controls can also be installed on your shutters so you can open and close your shutters as needed without a remote control.
We also provide our rolling shutters and installation services to commercial business owners in Austin and surrounding central Texas area. If you have concerns about the safety and security of your place or business, we can design a solution for you. Each shutter system is custom designed to your specifications, built to last and to fit your desired style.
There is no need to worry about the electronics of our rolling shutters! We offer a lifetime warranty on all signature series motors and electronics. Just contact us for assistance!