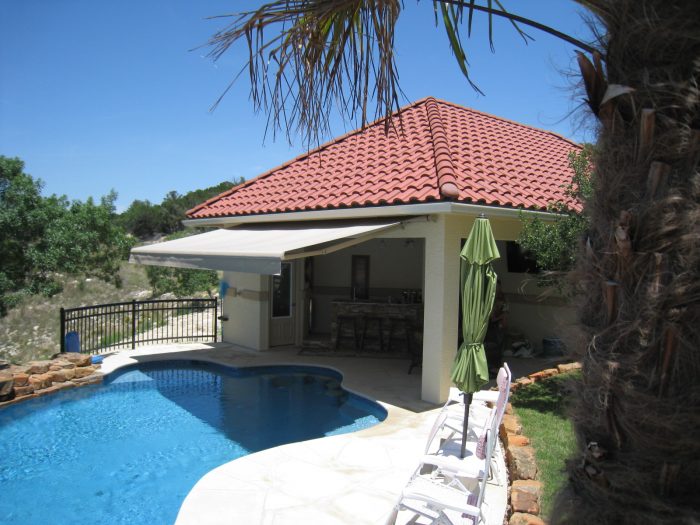 When it's sunny out, you want to be able to sit outside and enjoy your deck or patio, but as soon as it gets too hot, you have to go back inside. If you have a small covered porch or no overhang, there may be months during the summer, when you can't enjoy your backyard at all. But with a retractable awning from Hill Country Awnings & Shades of Texas, you can enjoy your Austin, TX porch or patio all summer long.
Our retractable awnings are an elegant and practical way to provide shade, reduce fading and block harmful UV-rays. Each of our awnings is customized to your needs and is offered in a large selection of colors, fabrics, and styles to compliment the look of your home or business. Plus, with retractable awnings, you get both interior and exterior benefits.
Interior Benefits of Retractable Awnings
Our awnings and other sun control products provide an excellent way to shade your home or office. That's because retractable awnings don't just keep your outdoor seating areas cool, they also can reduce your air conditioner usage and save energy. In addition, their UV protection helps protect your indoor furniture and prevent it from fading.
Exterior Benefits of Retractable Awnings
Retractable exterior shading systems are the most efficient way of providing sun control. The versatility of retractable products provides optimal heat and light control as needed. In fact, with a retractable awning, you can enjoy relaxing on your patio even on the hottest days, since temperatures under your awning can be as much as 20 degrees cooler.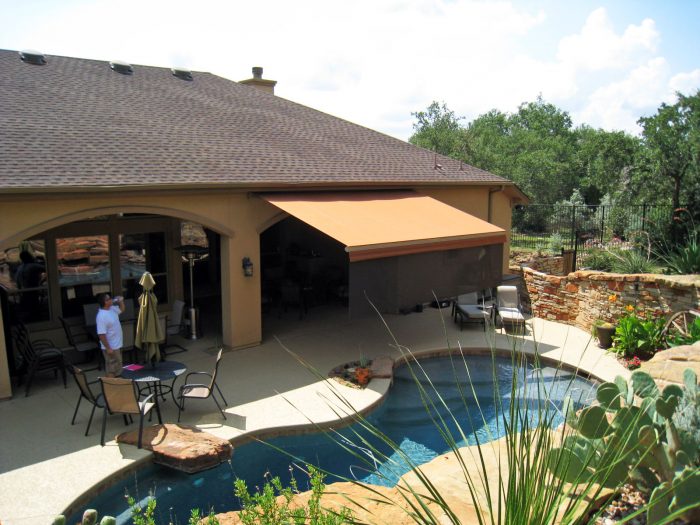 Contact Us Today!
We make retractable awnings in your choice of motorized, automated, or manual control. Plus, retractable awnings from Hill Country Awnings & Shades of Texas can be fully integrated with your smart home automation systems. They come in a variety of durable and gorgeous outdoor fabrics, including Sunbrella fabrics.
Contact us today to discover all the amazing possibilities for shade with a retractable awning from Hill Country Awnings & Shades of Texas.