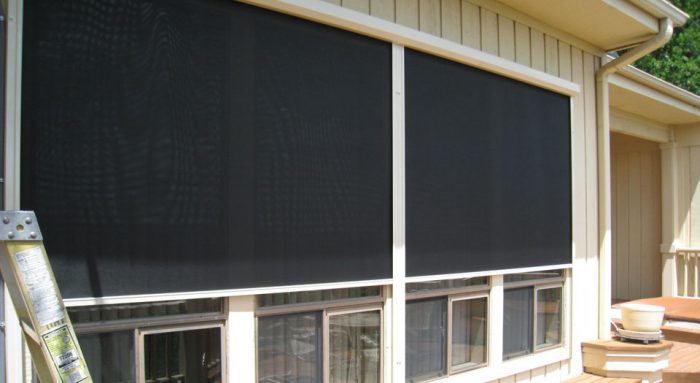 There's almost nothing more annoying when you're watching the big game or binge-watching your favorite show than glare on your television screen. Imagine pushing a button or flipping a switch and watching as your windows drop screens to conveniently provide shade from the sun, eliminate glare, and privacy when you want it.
With EZ Shades from Hill Country Awnings & Shades of Texas, you can allow light to enter as you wish and help keep your home cool no matter where you live in Austin, TX and beyond. Plus, EZ Shades provide more energy efficiency and better sun protection for your valuable furnishings and carpet than regular blinds or curtains.
EZ Shades made of extremely high-quality materials. EZ Shades can be used to provide shade and sun protection just about anywhere inside and outside of your home or business including:
Balconies
Covered Porches
Our EZ Shades are designed for a maximum width of 12′ and can be fully motorized or automated as well as manually controlled. While they can be mounted inside, retractable exterior shading systems are the most efficient way of providing sun control and we recommend you have us mount them on the exterior side of your windows, glass doors, or patio.
Benefits of EZ Shades for your Austin, TX home or business
Provide functionality of a conventional screen, but disappears when you want it to.
Our fabrics effectively block up to 90% of solar heat rays when you have us install your EZ Shades on the exterior of the window.
Depending on the type of fabric used, you may realize a potential reduction in air-conditioning costs by as much as 25-40%.
Provides heat reduction and glare from direct sunlight and solar reflective structures.
Includes motorized systems that are compatible with home automation systems.
Increases access to natural ventilation and daylight.
Offers a range of mesh choices for insect control, solar shading, and privacy.
With so many added advantages to EZ Shades custom made for your home including combining the benefits of a window screen with the qualities of a solar shade blind, there's no reason to wait. Contact Hill Country Awnings & Shades of Texas today to find out more about EZ Shades and our other interior and exterior shade products.